Georgia-Pacific
DensDeck Roof Board
Fire resistant | Moisture resistant | Dimensionally stable | Strong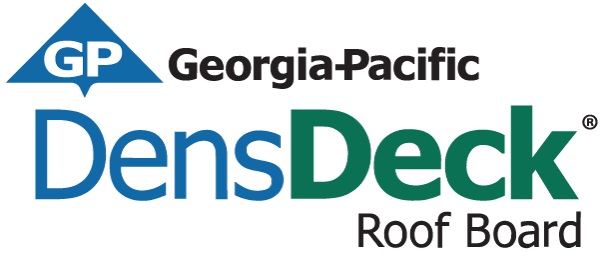 With billions of square feet installed in a complete range of roofing systems and climate extremes, DensDeck® Roof Boards have proven its toughness and versatility. The unique construction has been shown to withstand delamination, deterioration, warping and job site damage far more effectively than paper-faced gypsum board and other conventional roofing products such as wood fiberboard and perlite.
Provides superior fire protection
Fire, rot and hail resistant
Holds up well under normal construction and maintenance foot traffic while stiffening and stabilizing roof decks
Easy to install in all types of roof systems
Ideal product for direct membrane application
Tested within roofing systems for sound isolation
---
DensDeck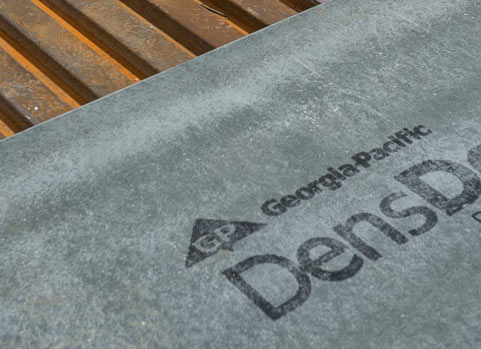 DensDeck® is designed to address persistent challenges inherent in commercial roofing assemblies: fire resistance, strength and dimensional stability when installed in a properly designed roof assembly. DensDeck is a fiberglass mat-faced, noncombustible (as described and tested in accordance with ASTM E 136), nonstructural, gypsum core panel.
---
DensDeck Prime with EONIC™ Technology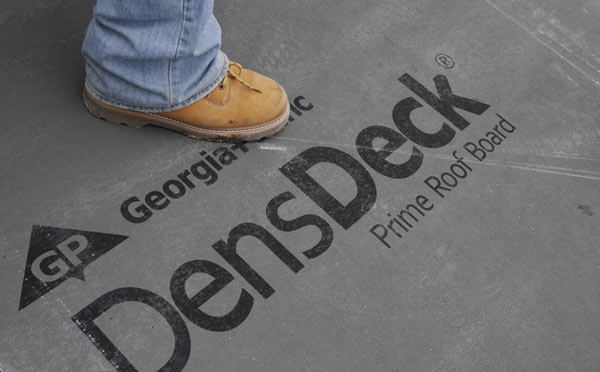 In keeping with the tradition of market-driven innovation DensDeck® Prime Roof Board includes EONIC™ Technology, a patent-protected enhancement that has doubled its resistance to moisture, making it the only roof board with manufacturing specifications that include 5% total water absorption resistance by weight and 1-gram surface water absorption performance on both sides of the board. (Based on published manufacturing specifications as of June 1, 2020.)
DensDeck® Prime combines all the features of standard DensDeck with an enhanced surface treatment. The green surface coating allows uniform spreading of adhesives, which results in a stronger, more consistent bond. For cold mastic and torch applied modified bitumen as well as all fully adhered single-ply systems, DensDeck Prime provides a stronger, more economical installation by reducing the amount of mastic or adhesive, potentially eliminating the field primer and reducing the number of fasteners required to achieve high wind uplift values. Consult with membrane manufacturer for actual priming requirements.
GP DensDeck Roof Board Guides and Brochures
---
GP DensDeck StormX Prime Roof Board
Stand up to Severe Hail Conditions
When you're looking for the best defense for your roof assembly designs, there's only one cover board to consider. DensDeck® StormX™ Prime Roof Boards incorporate increased moisture resistance and strength, as well as preeminent impact resistance in one multi-use roof board. It is classified by FM (Factory Mutual) Global for VSH (very severe hail), the tough new hail standard in FM Property Loss Prevention Data Sheet 1-34.(1) Specify DensDeck® StormX™ cover boards wherever you need enhanced impact resistance, but always specify it in very severe hail zones.
Upcoming Events
NERCA 95th Annual Convention & Trade Show
Feb 7, 2023 – Feb 9, 2023
International Roofing Expo 2023
Mar 7, 2023 – Mar 9, 2023
BURSI 2023 Continuing Education Program Level One
Apr 2, 2023 – Apr 4, 2023
The Better Understanding of Roofing Systems Institute (BURSI) was launched in 1972 to provide further education to the design community around commercial roofing. These education programs are certified by the American Institute of Architects (AIA) and the International Institute of Building Enclosure Consultants (IIBEC).
Level One provides an overview of various roofing components, system selection, demos, and a tour of our lab building.
Classes will be limited to a max of 25 people. If you are a design professional interested in attending, please fill out the form below. Please note that submitting this form does not confirm a seat. You will receive communication from our team once your submission has been reviewed. If you have any additional questions, please reach out to bursi@jm.com.
Click here to sign up
BURSI 2023 Continuing Education Program Level One.