Johns Manville
Insulation and Cover Board
We'll design a solution to meet your covering and insulation criteria.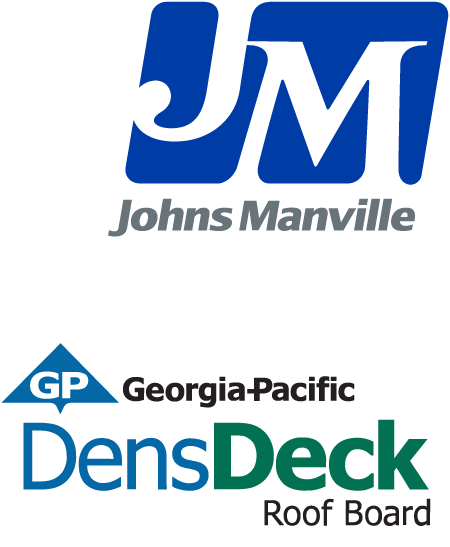 Johns Manville has a broad line of polyiso insulation products to address your R-value requirements with a wide range of facers that cover all ASTM Type II designations; and a full line of composite products.
As for cover boards, Georgia-Pacific DensDeck with their Econic™ technology leads the way to enhancing and protecting any roofing system.
JM offers high-density polyiso, low-density polyiso, cement, and gypsum cover boards.
JM and Georgia-Pacific have solutions that can meet all types of design criteria: a system for high-impact zones, fire-retardant solutions that meet UL Class A requirements, products that do not support mold growth, acoustic design and more.
---
ENRGY 3
---
---
ProtectoR HD
---
SeparatoR
---
---
JM Invinsa
---
---
---
JM DensDeck
---
---
JM DiamondBack Pre-Cuts
---
---
JM DuraBoard
---
---
FESCO
---
---
---
---
---
Retro-Fit Board
---
JM DEXcell
---
---
---
JM SECUROCK
---
---
---
JM Nailboard
---
---
RetroPlus Roof Board
---
ValuTherm
---
---
Upcoming Events
NERCA 95th Annual Convention & Trade Show
Feb 7, 2023 – Feb 9, 2023
International Roofing Expo 2023
Mar 7, 2023 – Mar 9, 2023
BURSI 2023 Continuing Education Program Level One
Apr 2, 2023 – Apr 4, 2023
The Better Understanding of Roofing Systems Institute (BURSI) was launched in 1972 to provide further education to the design community around commercial roofing. These education programs are certified by the American Institute of Architects (AIA) and the International Institute of Building Enclosure Consultants (IIBEC).
Level One provides an overview of various roofing components, system selection, demos, and a tour of our lab building.
Classes will be limited to a max of 25 people. If you are a design professional interested in attending, please fill out the form below. Please note that submitting this form does not confirm a seat. You will receive communication from our team once your submission has been reviewed. If you have any additional questions, please reach out to bursi@jm.com.
Click here to sign up
BURSI 2023 Continuing Education Program Level One.