WindSmart® with Johns Manville products achieve maximum performance in vented roof systems.
WindSmart Systems® - Unparalleled Performance!
Wind represents the most destructive force affecting roofs. WindSmart systems use science to achieve more wind-resistant, higher performing low-slope commercial roofs. Using a combination of proprietary air-sealing techniques and WindForce365 pressure equalization vents, the destructive wind uplift forces are negated. The greater the wind velocity, the more secure the field of the roof assembly can become.
Additionally, through a process of controlled air exchange, the system can be applied to remove entrapped moisture from new and existing roof assemblies. Ongoing moisture removal is the key strategy to roof longevity and ongoing recyclability of the roof assemblies. The WindSmart system produces the most durable, longest lasting and lowest life-cycle cost roof assembly in the marketplace.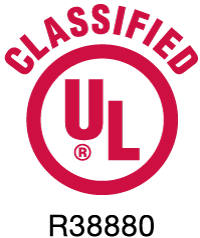 WindSmart Systems roofs are backed by extensive laboratory testing. WindSmart's WindForce 365 Equalization Vent is classified by UL for wind uplift resistance:
Concrete decks: Up to 495 psf
Metal decks: Up to 285 psf
Wood decks: Up to 210 psf
Without WindSmart Roof Systems: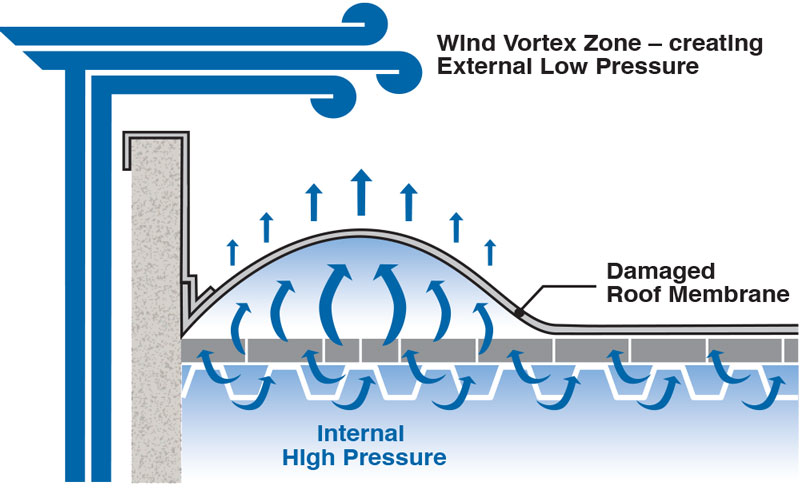 Wind currents constantly work to destroy the integrity of conventional roofs.
When wind hits the side of a building, it creates an updraft. When it meets the horizontal air stream, the updraft violently tumbles, creating a horizontal vortex similar to a tornado. This wind vortex creates an external low pressure that can tear off a conventional roof assembly.
With WindSmart Roof Systems: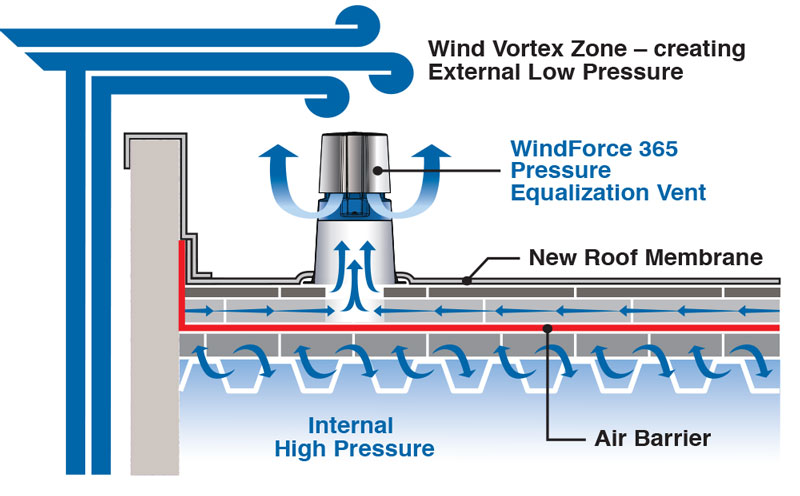 WindSmart roofs use wind currents to "vacuum-pack" the entire roof and underlying structure.
Using an air tight substrate design, wind generated low pressures pull air and moisture from under the roof membrane, up through and out the strategically placed equalization vents. A suction is created, pulling the roof membrane tightly against the substrate, resisting wind uplift.
Upcoming Events
NERCA 95th Annual Convention & Trade Show
Feb 7, 2023 – Feb 9, 2023
International Roofing Expo 2023
Mar 7, 2023 – Mar 9, 2023
BURSI 2023 Continuing Education Program Level One
Apr 2, 2023 – Apr 4, 2023
The Better Understanding of Roofing Systems Institute (BURSI) was launched in 1972 to provide further education to the design community around commercial roofing. These education programs are certified by the American Institute of Architects (AIA) and the International Institute of Building Enclosure Consultants (IIBEC).
Level One provides an overview of various roofing components, system selection, demos, and a tour of our lab building.
Classes will be limited to a max of 25 people. If you are a design professional interested in attending, please fill out the form below. Please note that submitting this form does not confirm a seat. You will receive communication from our team once your submission has been reviewed. If you have any additional questions, please reach out to bursi@jm.com.
Click here to sign up
BURSI 2023 Continuing Education Program Level One.